If you're an avid gym goer or even a beginner, you'll know that listening to music during your lifting or cardio sessions will make it much more interesting while pushing you to be your best.
If you haven't tried listening to music in the gym, then I suggest you do it! There is nothing like a powerful song pushing you to run harder or get a few more reps.
There are so many different earbuds or headphones on the market. It can be difficult to know which is for you.
What Features Do You Need?
1) Full Headphones or Small Earbuds? 
First, you'll have to decide if you want full headphones that span over your head, or, small earbuds that only sit in your ear.
I know people that use full headphones, and I know people that use earbuds. The choice is yours. You must choose whatever you are most comfortable with.
Personally, I feel that full headphones can get in the way while in the gym or become ruined easily due to sweat. But some folks have no problems at all. This is just a personal preference.
So choose, headphones or earbuds?
2) Bluetooth or Wired?
When I go to the gym, I often notice many people using earbuds that are Bluetooth and completely wireless. In my opinion, this is optimal for performance.
By avoiding wires, you will not be restricted in any ways. For example, when I use an elliptical and I had wires, my phone would often go flying to the ground.
THIS IS NOT OKAY.
Finally, I decided to switch to Bluetooth earbuds and I would never consider going back.
Don't get me wrong, if you love having wires, then that is fine! There are a decent amount of people at the gym that still use wires and if it works, it works!
I love using the latest technology available, if you're the same, Bluetooth wireless earbuds are probably the choice for you!
3) Noise Cancellation
Another feature that some find important to have is noise cancellation.
Sure, some gyms are loud and people are yelling, talking, grunting, and being obnoxious.
If this distracts you and takes away from your ability to focus in the gym, perhaps you should invest in noise cancellation!
Noise cancellation is an up and coming technology that muffles out noise in the world around you. You see this feature the most in full headphones rather than earbuds. But, it is becoming an option in earbuds as well!
Personally, I do not use noise cancellation while in the gym. I do not find it necessary as I do just fine without it!
4) Distance Range/ Cord Length
Be aware of the reach or your earbuds whether cordless, or Bluetooth!
Especially if you want earbuds with a cord, you will want to be aware of how far you will be able to reach without throwing your phone or unplugging by accident. This is something you need to be aware of when lifting or running.
There is nothing more frustrating than exercising and losing focus because your earbuds fall out.
The longer the cord, the more comfortable exercising will be.
Also, the same goes for Bluetooth range.
Bluetooth ranges vary based on how advanced the technology and your device is. You will most likely not have an issue with this, but be aware of how far away you can move from your device.
5) Battery Life (If wireless)
How many of you have been in the gym with wireless earbuds or headphones and the battery died on you?
This has happened to me so many times! If your battery dies, you are absolutely out of luck and will not be able to listen to music!
This is why it is ever so important that you look at the battery life of your wireless earbuds or headphones!
If your battery is only an hour or two, you will most likely run out of battery at some point! Especially if you forget to charge between lift days.
By having wireless earbuds or headphones that have a long-lasting battery life, you will avoid this problem all together.
7) Sweat/Water Proof?
You may want to consider looking into a product that can withstand moisture or water.
If your cardio sessions are as crazy as mine, you will be dripping sweat.
If this is you, you may want to consider purchasing a listening device that is somewhat resistant to water or sweat!
It could also be helpful if you're walking outside and it begins to rain.
6) Price and Quality
Generally, what you pay for your listening device will result in the type of quality.
The more you pay, the longer the life of your listening device will be. You also will have higher sound quality and be more resistant to sweat and outside factors.
Of course, if you cannot afford something more expensive, choosing a cheaper option will be just fine so long as you pick the right device.
---
Top Earbuds or Headphones For The Gym
1) Apple Airpods
As many of you know, Apple is a very prestigious company and seems to only be growing by the year.
Not only are they well-known, but about 50 percent of all Americans use an iPhone. Apple Airpods, like all apple products, are incredible technological devices.
This device is perfect for you if you are looking for wireless blue tooth technology and a long-lasting battery life.
The discreet wireless earbuds are perfect for travel, the gym, or even for work. They sit comfortably in your ears and do not fall out unless you knock them out yourself. Through many months of exercise usage, I have never had them fall out on their own even once!
They also have an incredible battery life that offers up to 5 hours of listening. The best part, is even if your earbuds battery go dead, they come with a small charging case that will have them ready to go within 15 minutes of charge!
Therefore, as long as you keep your case charged, which I only have to charge once every few weeks, you will have no issues making sure you have proper battery life. Amazon Link to Apple Airpods
I wrote a full review on the Apple Airpods if you're interested in learning more.
Pros:
– Five Hours of Listening On One Charg
-Automatically Connect With Apple Devices When Put In Ear
-Double Tap Features To Change Song, Use Siri, Etc
-Discrete Design
-Make Phone Calls
-Does Not Fall Out (Unless You Hit Your Ear)
-Use One Earbud or Both With Adaptive Balance
-Fully Wireless
Cons:
-Price (Well Worth It!)
-If You Hit Your Ear, They Might Fall
-If You Don't Return Earbuds To Case, Easy To Lose
(Check Price Above)
---
2) ENACFIRE E18 Wireless Earbuds
Enacfire is a brand that has the goal of using the latest technology to ensure positive experience with their products.
The ENACFIRE E18 wireless earbuds are packed full of different features that you will be sure to enjoy.
This product easily links with any device and once registered, connects to your phone automatically when taken out of its case.
It also has up to 4 hours of listening on a single charge. If that is not enough, it has a portable charging case that offers 15 hours of use.
You will never have to worry about the battery life if you choose this brand.
These earbuds also use anti-dropout technology to avoid the frustration of earbuds that simply are not efficient. Your workouts will never be interrupted due to an earbud falling out! This also takes away the worry of breaking your listening device if you'd drop it!
With great sound quality and a small, slim, and comfortable design, I know that you would enjoy this product!
Pros:
– Four Hours of Listening On a Single Charge
-Portable Charging Case (15 Hours of Charge)
– Slim and Very Small Design
– Fully Wireless With the Latest Bluetooth Tech
-Price (Great Price For What You Get)
-Highly Rated By Amazon
Cons:
-Does Not Block Out Surrounding Noises Well
-Small Difficulty Talking Clearly On Phone
(Check Price Above)
---
3) SoundPeats Bluetooth Earbuds
SoundPeats is an incredible company that is revolutionizing the music world!
I say this because of the incredible features that they put into their device.
First, you will have up to 8 hours of talking or listening time when you choose SoundPeats. This is such a long amount of time!
Let's put this into perspective.
You could watch 4 movies with these earbuds without charge. WOW! I can't imagine you will ever run out of battery while at the gym or traveling.
Another feature that you will be sure to love is it's sweat resistant capabilities.
You will be able to drip with sweat and have no worries about your device becoming defective. Run, walk, bike, hike, lift, do whatever you choose because you will have no issues with the IPX Level 6 sweat resistant technology.
This device is also completely customizable. You will be sure to have secure fit with three different sized earbud tips. Choose whichever is most comfortable for you. If that is not enough, you can even choose the color of your earbuds! These features are great for your ability to personalize your device to exactly who you are.
The kicker is that your earbuds are connected to one another by wire. This is not a wire connected to your phone, simply between your two earbuds.
You will not be restricted in motion in any way by having this wire. It can even come in handy by the use of built in magnets!
These magnets allow you to latch your earbuds together in a loop around your neck. You will never be able to lose your device no matter how hard you try!
Pros:
– Eight Hour Listening Or Talking
-Sweat Resistant
-Customizable Fit and Style
-Magnetic
-High Quality Sound
-Volume Control
Cons:
-No Portable Charging Case
-Wires Between Earbuds (Shouldn't Be An Issue)
---
4) QQcute True Wireless Earbuds
For those of you interested in small wireless and Bluetooth earbuds at a cheaper price, this is a good option for you!
A top feature that comes with QQcute wireless earbuds a portable charging case that can charge your device three times.
This is convenient because you will not have to charge your case very often. By offering three full charges you can be certain that the portable battery case is powerful and effective.
Unfortunately, you only get up to two hours of music or call time. However, with the convenient portable charger case that charges your device up three times, this shouldn't be a huge issue! You definitely can make it work.
QQcute earbuds also use a one-step Bluetooth connecting technology. Once connected for the first time, it will automatically connect to your phone when in use! This is effective and easy to quickly get your exercise underway.
Lastly, unlike some wireless earbuds, you can fully customize your fit to your ear with the small, medium, and large ear tips.
These ear tips are comfortable and will make sure your earbuds do not fall out of your ear.
Pros:
-Portable Charging Case (3x Charge)
-Easy To Connect
-Wireless With Bluetooth
-Small Design
-Customizable To Your Ear
-32 Feet Connecting Distance Between Phone and Earbuds
-Price (Good Quality For Price)
Cons:
– Battery Life (Portable Charging Case Helps)
– Very Small Be Careful Not to Lose
---
5) Bose QuietComfort 35 (Series II)
If you know anything about headphones, earbuds, or speakers, you will know the name Bose.
Bose has been around since 1964. If you're counting, that's almost 54 years. This company is beyond well distinguished a top of the line company for all of your listening needs.
When you choose Bose, you choose quality.
The Bose QuietComfort 35 Series II is an incredible device that has so much to offer.
This device is a full headphone instead of earbuds.
This is both a positive and negative as we discussed earlier. Many people prefer a headphone because of the quality and stability on your head!
Specifically, this model has incredible noise canceling abilities. With a full ear surrounding earmuffs, you will ensure excellent noise cancellation and will be able to solely focus on the task at hand. This also comes with clear phone calls and voice activation (including Amazon Alexa).
With such a high quality device you will also gain beautiful sound quality and great bass as well.
Let's talk about the battery of this device.
The battery on these headphones are up to 20 hours of playtime or calling. This is the best battery we have seen yet in our reviews today.
You even have the option to use a cord to connect to your phone for up to 40 hours of playtime or calling.
If you cannot tell, the battery is distinguished and is perfect for exercising, lifting, traveling, or just being at home!
With this devices many features you can adjust sound, change song, check your battery, and easily use Bluetooth all with the buttons included on the headphones!
This option is a little more pricey but you will be sure to have an excellent experience.
Pros:
-20 Hour Battery Life, 40 With Cord
-World Class Noise Cancellation
-Wireless Bluetooth OR Cord Technology
-High Quality Sound and Bass
-Bose Phone App For Customizing Sound
Cons:
-Price (Expensive But Incredible Quality)
-Pads Could Eventually Fade Due to Sweat
(Check Price Above)
---
6) Beats Studio3 Wireless Headphones
Beats By Dre is another popular company.
You see Beats all over the sports world with star athletes representing the same exact devices.
Also, if you are an avid gym goer I guarantee you've seen people in the gym wearing this brand.
That's because Beats is a luxury. It is almost a style statement, yet it's of the highest quality.
A huge standout feature is that this device has 22, yes 22 hours of battery life. This is incredible. Yet, with this models fast Fuel feature, a ten-minute charge gives three hours of play when battery is low. This is essentially 11 gym sessions without charging your device. WOW. You definitely want to have a device with proper battery so that you aren't left with dead headphones at the gym.
Beats Studio3 also has noise cancellation capabilities and it works very well.
When I would study in college I would put my Beats on just to use the noise cancellation technology so that I could focus. Yes, I clearly had obnoxious roommates. But the key point here is that it really works well. Noise blocking technology as good as this can be very beneficial when you need to focus and get things done.
If you use Apple products, this device is for you.
These Beats have the Apple W1 chip for optimum Bluetooth connectivity and battery efficiency. You will have no issues staying connected and holding battery when you choose this model of Beats.
Pros: 
-22 Hour Battery Life
-Apple W1 Chip
-Wireless or Cord
-fast Fuel Charging Mode
-Noise Cancellation
-Comfortably Soft Ear Pads
-Completely Covers Your Ear
Cons:
-Price (Worth the Quality!)
-Ear Padding Can Wear With Sweat
(Check Price Above)
---
7) NUVO Bluetooth Headphones
Nuvo has created one of the top earbuds that are specifically made for exercise.
Sure, you can exercise with any earbuds or headphones that you would like. However, some devices are specifically made to take the on task.
Why is this device perfect for exercise?
It is IPx7 waterproof and sweat proof.
Whether you're running in the pouring rain or dripping sweat at the gym, this device will hold up! This is an important feature because you do not want your earbuds lifespan to be cut short just because you had an incredible workout or because it started to rain.
You should never have to worry about sweat or rain harming your earbuds. Now, you won't!
You will also be exercising with ease as your earbuds will fit very comfortably and securely within your ear. With silicone earbuds that come in different sizes, you will be set to go. You must always make sure your earbuds fit properly when exercising so you have no issues staying focused.
Let's talk more about the amazing features this product comes with. Because, there are so many of them!
This model has eight hours of battery life allowing for multiple workouts with no worry of dead earbuds. This isn't the longest battery life on the market, but it surely is enough to get the job done.
It also has high definition sound paired with CVC 6.0 noise suppression technology. In earbuds you don't normally see this feature. It is not normal that your earbuds have any type of noise cancellation technology. However, with this product, the sky is the limit.
You definitely want to consider noise cancellation as to block out all the distractions around you.
What else will you love about this product?
You receive a 1-year manufacturer's Warranty and a 30-days no questions-asked return policy. You literally have nothing to lose when giving this product a try. Take these earbuds for a spin!
Pros: 
-IPX7 Waterproof/Sweatproof
-Eight Hour Battery Life
-Comfortable Silicone Fit
-Great Sound Quality
-Sound Suppression Technology
-Wireless Up to 30 Feet
-Price (For all the features included, this is a steal)
Cons:
-Wire Connects Earbuds (Shouldn't be an issue)
(Check Price Above)
---
8) Mpow 059 Bluetooth Headphones
Mpow is an up and coming company that now sells their headphones and earbuds in over 10 countries worldwide!
When I came across the Mpow 059 I was impressed for a variety of reasons.
First, I was impressed that this headphone contained many features that are similar to headphones that are much more expensive than this one!
Second, I was impressed that this device is fully functional while exercising and could be a useful component to your daily workouts.
Third, the design of this headphone device is very stylish and built for comfort!
Let's talk about some of the top features you gain when you choose Mpow.
First, I am sure you're curious about the battery time. Because of course, there is no experience worse than going to the gym with dead headphones.
This will not be an issue because Mpow provides you with 20+ hours of listening. This will last you for many workouts without having to recharge!
Also, Mpow has the goal of providing you with optimum sound quality! This device is designed to give you an incredible balanced sound with proper bass functionality!
You'll also be able to talk on the phone with the built in microphone and even walk away from your device up to 33 feet! You won't have to stop your exercise just to answer your phone which is important if you are in the middle of a run. Simply tell your friend hey, I am busy right now let me call you in a few minutes!
I mentioned previously how the design is comfortable. It's comfortable because the ear cushions are a soft and snug leather that will keep you feeling great!
It is an over ear headphones, but it does not focus on noise cancellation. Noise will surely be suppressed as your ears will be fully covered, but this design does not have noise cancellation technology. This is a deal breaker for some, but not everyone needs it!
Overall, for the price, the Mpow 059 offers you a ton of features and will accompany your workouts with ease. If you don't believe me, this product has 4.5/5 stars on Amazon with 16,000 reviews.
Pros: 
-Over Ear Design
-20+ Hours of Battery
-Bluetooth Wireless Or Use Cord
-Change Song or Volume Right on Headphone
-Smooth and Comfortable Design
-Price (Compared to other products with similar features, this is an incredible price)
Cons:
-No Noise Cancellation
-Sweat May Harm Over Time
---
9) Shinxin Wireless Headphones
How many types of exercises can you name? Five or ten?
My point here, is that so many people overlook one of the best exercises for your body.
SWIMMING
Swimming has an incredible impact on your body as it works so many different muscles and is considered a full body workout.
If you're an avid swimmer, you'll know how tiring and exhausting it can be. This is an incredible thing because clearly, this type of cardio is working!
If you're looking to switch up your cardio, give swimming a try.
Why am I talking about swimming you ask?
Because if you choose to swim, you shouldn't have to give up your ability to listen to music to pump up your workout.
The Shinxn wireless earbuds are a fully swim proof and waterproof type of device and will withstand any water workout!
Not many earbuds have this feature, and that is what truly makes this device unique.
It also has eight hours of music playtime which will be sure to outlast your swimming workout. In fact, you may not have to charge this device for a week or two depending on how often you swim! This is key because music is what really pushes people while in the gym.
These earphones are also very snug and comfortable so you don't have to worry about them falling out. They even come with both earbuds strapped together so if one falls out, you won't lose it in the pool!
For the price, this is an exceptional product and that will finally let you listen to music in the pool!
Pros: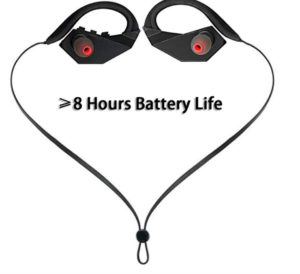 -Waterproof IPX8 (For Swimming)
– Eight Hour Battery Life
-60 Day Money Back
-Two year Warranty
-Play and Sound Control Buttons
Cons:
-Noise Cancellation Isn't Excellent
-Be Sure Product Is Dry Before Charge
-If Sound Becomes Weak, Empty Out Water From Earbud Cushion
---
10) Pyle Bluetooth Earbuds
The Pyle Bluetooth Earbuds were another type of earbud built for the water.
Again, swimming is one of the best workouts for a person because it is full body and works many different muscle groups. It is a great way to switch up your cardio so if your gym has a pool, I highly recommend giving this a try.
But of course, you want to listen to music. This is yet another incredibly designed product that will allow you to swim while listening to your favorite pump up songs.
This design has a flexible wrap around your ear band that makes it perfect for sports and intense workouts. It will comfortably fit your ear and you won't have to worry about your earbuds falling out, especially in the water.
What separates this swim proof earbud from the rest, is that it has an 8GB built in storage for up to 2,500 songs.
Think about it, you can't have your phone on you when you're swimming! This is not going to be an issue because you can store your music directly on these earbuds!
But of course, if you want to leave your phone on the side of the pool, you can connect with the fully functional Bluetooth capabilities.
Pros:
-Waterproof IPX8 (Made for Swimming)
-8 GB Internal Storage (Up to 2,500 Songs)
-Bluetooth Connectivity
-Designed Slim and Flexible For Movement
Cons:
-Only About 2-4 Hours Battery Life
-Do Not Charge Until Dry
-Sometimes Loses Sound (Blow the water out of the earbud)
---
The Best Choice For You
By now, you have realized that there are endless possibilities to what type of earbuds or headphones you can buy.
But of course, the key is to find a product that will work for you.
When thinking about the best earbuds for working out 2018, you will have many decisions to make.
You will have to decide if you want waterproof earbuds, wireless noise canceling headphones, over ear designed headphones, or something that only has Bluetooth capabilities and simply plays music.
At the end of the day, any of these ten earbuds or headphones will get the job done for you.
If you have any of these devices or are going to purchase one, please make sure you leave a comment to let us know what worked best for you!
Russell
Founder of myshakercup.com