If you haven't heard of Costco, get on google and search for your nearest location RIGHT NOW!
Costco has so many different and amazing foods. You are guaranteed to find something to fit your needs if you shop for groceries at Costco.
When I shop for healthy food from Costco, I often search in the refrigerated, not frozen section.
In this area, they have so many different chicken products, it's crazy.
In fact, some of it doesn't even taste like chicken, it tastes like sausages, hot dogs, even hamburgers.
Because it is made of chicken, it is low calorie and high protein. This is exactly the kind of food I search for in order to hit my macros and my calorie deficit.
This is going to be an open discussion.
I am going to name my top favorite products from Costco.
Your responsibility is to comment below and tell me what your favorite healthy food from Costco is.
Let's get to it!
Organic Kale & Mozzarella Charbroiled Chicken Burgers
These chicken burgers are absolutely delicious.
They are fairly soft and don't hold up like a regular burger, but I love to eat this with quinoa, sriracha sauce, and ketchup.
The added mozzarella cheese really brings out a flavoring that you are sure to enjoy.
Not only does it taste amazing, but the nutritional facts also are in your favor. Take a look below!
Each burger is only 170 calories with 8 grams fat, 4 grams carbs, and 21 grams of protein.
I normally eat two of these burgers at a time. This is the perfect meal for after a workout, or to be honest, at any time!
Kale & Asiago Cheese Chicken Sausage
This product tastes more like a hot dog than anything.
However, it tastes like a beyond delicious hot dog filled with cheese.
Normally, when something is filled with cheese, we assume its not healthy for us, but this product will make sure you hit your macros.
Each Sausage is only 80 calories with 4 grams fat, 1 gram carbs, and 10 grams protein.
Normally, I'll heat up a 5 pack for lunch. It's not only filling, but its perfect for eating in a calorie deficit.
Content goes here.
Grilled Chicken Strips
This is a favorite healthy food from Costco. This is so low in calorie compared to how high the protein intake is.
I eat this almost every single day and pair it with quinoa, rice, nachos, or even home made healthy pizza.
The taste is quite wonderful when you add a little lawry's seasoning salt (0 calories) and ketchup!
This will help you get a ton of protein, while only eating a small amount of calories.
There are only 110 calories in 3 oz ( a lot) of chicken with 2 grams fat, 0 grams carbs, and 22 grams of protein!
You should all be saying WOW.
Compared to other protein sources, this has got to be one of the best to help you shed points or hit your macros.
Apple & Gouda Cheese Chicken Sausage
I'm not going to lie to you, when I go to work, I pack three of these chickens sausages every single day.
This chicken sausage is beyond delicious and is filled with a Gouda cheese. I eat this both cold and heated up in the microwave, it tastes amazing both ways.
I don't usually put this on a bun, I normally eat it with quinoa rice.
The calorie to protein ratio is not as good as the previous grilled chicken strips, but it is still incredible enough to get the job done while tasting very good.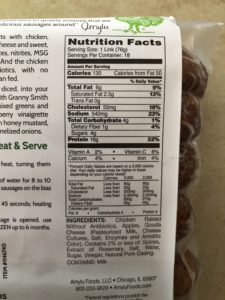 Each chicken sausage contains 130 calories, 6 grams fat, 4 grams carbs, and 16 grams of protein.
The reason I take this for lunch every day is because of the taste. To this day, I haven't found a chicken product that tastes as good as his product.
The Best Part About All of These Food Items
There 3 things that each of these food items has in common. Each of these 3, make these products the best healthy food from Costco.
1) Low Calorie- Each of these food items are very low in calorie for the flavor and taste that you get out of them. This is something I always look for when grocery shopping.
2) High In Protein- Furthermore, if you are attempting to hit a protein goal each day, any of these foods will help you do the trick. In finding low calorie high protein meals, it's easiest to eat similar meals daily. These items are easy swap outs for one another and all taste great.
3) READY TO EAT MICROWAVABLE- Yes, you read this correctly. Each of the items listed here are ready to eat cold, and ready to eat microwavable as well. Of course, they taste better microwaved, but it is not required because they are all cooked and ready to eat.
This means that you won't have to spend 30-60 minutes preparing your meals. It has never been easier to hit your macros or calories goal because it takes a minute to prepare your meal.
Convenience is always important when buying your foods.
If eating a food is convenient and easy, then you will most likely stick to your plan.
Where Can You Find It?
You can find any of these food items at your local Costco.
If your Costco doesn't carry the product, you can request it and see if they will get them in.
It's easy enough to just ask if someone can help you find what you're looking for. Most likely, they will be able to help you find it.
The only issue, is that Costco is a membership type of grocery store. You must pay a certain amount each month or year in order to shop there.
But I tell you this, it is so worth it because you won't find foods like this anywhere else.
Please comment below and tell me if you try these food items, or if you have favorite healthy food from Costco!
**Disclaimer** I do not work for, or receive benefits from Costco**
Russell
Founder of myshakercup.com